WHAT WOULD INTEREST SMEs IN THE NEW COMPANY AND ALLIED MATTER ACT (CAMA 2020)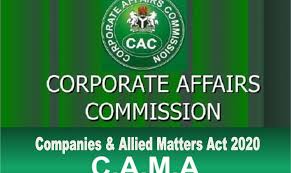 Just last week, precisely 7th August, 2020, President Mohammed Buhari signed the new Company and Allied Matter Act (Amended). But for most business stakeholders, especially owners of SMEs, there are a number of new developments captured in the Act that call for their attention  as the Act is intended to enhance the ease of doing business in Nigeria.
The new Companies Allied Matters Act (CAMA) 2020 has repealed and replaced the extant CAMA 1990 with highly important amendments that would take away some constrictions from the old act.
Below are highlights of some of the relevant amendments that would be of interest to SMEs and other entities of diverse structure and sizes:
Provision of single-member/shareholder companies – S.18 (2) of the new CAMA now makes it possible to establish a private company with only one (1) member or shareholder.
SMEs exempted from appointing auditors-Small companies or company with single shareholder are no longer mandated to appoint auditors at the AGM to audit their financial statements.
Concept of Limited Liability Partnership and Limited Partnership-The new Act combines the organizational flexibility and tax status of a partnership with the limited liability of members of a company.
Introduction of Statement of Compliance – S.40 (1) of the new Act introduces the Statement of Compliance which can be signed by an applicant or his agent, confirming therein that the requirements of the law as to registration have been complied with. This serves as an alternative to the requirement to submit a Declaration of Compliance, which must be signed by a lawyer or attested to before a notary public. A Statement of Compliance need not be signed by a lawyer.
Replacement of Authorized Share Capital with Minimum Share Capital – The concept of "authorised share capital" has now been replaced in S.27 of the Act with the concept of "minimum share capital". With minimum share capital, promoter(s) of a business need not pay for shares that are not needed at a specific time.
Procurement of a Common Seal is no longer a mandatory requirement – The procurement of a Common Seal is no longer a mandatory requirement according to
98 of the new CAMA: Every company is required under the previous Act to have a common seal, the use of which is to be regulated by the Articles of Association. This amendment is in line with international best practices as most jurisdictions around the world have expunged the requirement from their respective laws.
Provision for electronic filing, electronic share transfer and e-meetings for private companies – The new CAMA makes provision for electronic filing, electronic share transfer and e-meetings for private companies. S.861 of the new CAMA provides that certified true copies of electronically filed documents are admissible in evidence, with equal validity with the original documents. S. 176(1) also provides that instruments of transfer of shares shall include electronic instruments of transfer.
Provision for virtual Annual General Meetings – The new CAMA also provides for remote or virtual general meetings, provided that such meetings are conducted in accordance with the Articles of Association of the company. This will facilitate participation at such meetings from any location within and outside the shores of the country, at minimal costs. This is especially relevant today given the disruptions caused by the Covid-19 pandemic to company operations around the world.
Take-home for SMEs
The new CAMA will enhance the ease of registering and doing business in Nigeria, a country with an increasingly large numbers of SMEs in her markets.  This is in turn expected to help government revenue generation capacity through taxation.
Do you need professional services for your company's registration or tax, please speak with us here.
Thank you.